Welcome
Bienvenido
to my own little chunk of cyberspace.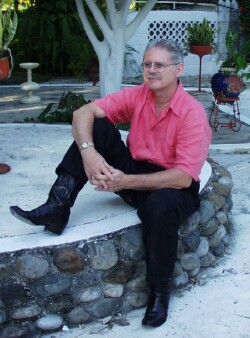 These pages provide a glimpse of and tribute to a few of my amazing family and friends, and allow me to share some of my photographs and commentary. Please feel free to take your shoes off, come inside, and stay awhile.
Do you know me? Did you know me? Let me hear from you! The purpose of this page is to be found by people like you, and when you find this page, please let me know! I am always curious how the web helps people restore past connections and make new ones.
Recent Wanderings
In the continuing saga of yet more moves, I am currently in the Denver, Colorado area. Before that I was working in Benton Harbor, Michigan at yet another contract job, and prior to that in Redmond, Washington for Nintendo. I was not playing games, or even writing them, but programming two new Nintendo DS game packaging lines. Prior to that, I worked in Mexicali Mexico, Austin Texas and Saudi Arabia.
Since I have been in the Denver area, I have travelled extensively both for work and pleasure. I worked for three months in San Vicente, Bolivia, in the southern mountain. For fun, I have been in Ecuador (mainland and Galapagos), Panamá, Perú and Mexico.
A native of Ingleside, Texas, I have lived in Wilsonville Oregon, Collins New York, Longview Washington, Houston and College Station Texas. In between, there were numerous short stays in places like Chimbote Peru and Cuernavaca and Villahermosa Mexico.
Work
I am a process control engineer and computer programmer, and by degree an electrical engineer, a graduate of Texas A&M University. For those of you who are scratching your head over that, I design the automation programs that run industrial plants and equipment. Other people say that I just play with computers all day.
Activities and Hobbies
Choral music is my favorite hobby, especially a capella music, and there is none more beautiful and entertaining than barbershop harmony. I currently sing with the Denver Sound of the Rockies, and most recently was joining the Northbrook New Tradition before moving to the Denver area. Before that I sang with the Portland Metro Bridge Town Sound and the Salem Senate-Aires, an awesome quartet Kinetics, and previously sang with the Heart of Texas chorus, the Syracuse New Spirit Of Harmony, the Buffalo Queen City Chordsmen, and the Gowanda Kings of Persia.
I also enjoy classical and contemporary choral music, and recently sang with the Buffalo Gay Men's Chorus and the Springville Community Chorale in New York. Previously I have sung with the Chautauqua Choir and the Cattaraugus Community Chorus in New York, as well as church choirs in Michigan, Texas and New York.
I enjoy photography, particularly travel photography. I am also fascinated by Mexico, particularly prehispanic Mayan, Zapotec, Mixtec, Olmec and Aztec history and archeological sites. I have a few of my pictures in photo albums, and hopefully will have much more of my collection online soon. At some point I hope to improve the presentation and add much more commentary. So keep checking back, and maybe someday you will be pleasantly surprised.
---
<
About This Site
What's New and Recently Updated
What's Under Construction
or Coming Soon
(or Maybe Not so Soon?)

Panamá

Ecuador

Quito
Galapagos Islands
Guayaquil

Yucatán and Quintana Roo, Mexico

Puerto Morelos
Chichén Itzá

México, Puebla and Tlaxcala, Mexico

Cholula
Puebla
Cacaxtla
Xochitéctl
Teotihuacan

Morelos, Mexico

Cuernavaca
Tepozlân
Xochicalco