Photograph Albums Archive | Oregon and Washington
Multnomah Falls, Oregon
03 April, 2004
Click on the thumbnail picture to view the full size picture.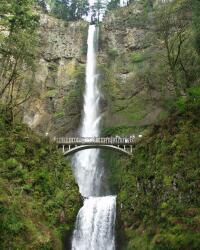 Multnomah Falls is in the Columbia River Gorge National Scenic Area just 20 miles east of Troutdale, Oregon. It is the fifth highest waterfall in the United States, and the second highest year-round one, with 621 feet total drop, 542 feet in the upper and 79 feet in the lower. Fed by underground springs from Larch Mountain, the flow over the falls varies, usually highest during winter and spring. Unusually cold winter weather can turn it into a frozen icicle.
Multnomah Falls offers one of the best places in the Columbia River Gorge National Scenic Area to study geology exposed by floods. Five flows of Yakima basalt are visible in the fall's cliff face.
The Larch Mountain trail allows a closer look at the falls or a longer walk. It is just 1/4 mile to the historic Benson arch bridge. From there, the top of the top of the falls is one mile further on the paved trail, although it is fairly steep (700 feet). It continues six miles to the top of Larch Mountain, where there is a spectacular view of the Cascade Mountains and the Columbia River Gorge.
Benson Bridge, crafted by Italian stone masons, allows visitors to cross the falls between it's lower and upper cataracts. It was erected in 1914 by Simon Benson, a prominent businessman and owner of the falls at that time.
A stone lodge near the foot of the falls, built in 1925 by A.E. Doyle, originally had dormitories and four rooms for overnight stays. Every type of rock found in the Columbia River Gorge is represented in the Lodge. It now houses a visitor center, gift shop, restaurant and snack bar.

P4030269a

P4030270a

P4030271a
P4030272

P4030273
P4030274

P4030275

P4030276a

P4030277

P4030278a

P4030280

P4030281a

P4030283
All pictures are jpeg (jpg) 24-bits, 144 dpi format with 1024 pixels in the largest dimension. Higher resolution pictures are generally available, up to 1712 x 1368, as tif, jpeg/jpg, gif, tga, png, pcx, or bmp formats. Please email me if you are interested in these other formats.
---
Oregon and Washington Photo Albums
Other Photo Albums