Photograph Albums Archive | Mexico
Hierve El Agua, Oaxaca, Mexico
18 April, 2003
Click on the thumbnail picture to view the full size picture.
At Hierve El Agua, whose name means The Water Boils, mineral springs run into bathing pools cut from the rock atop a cliff with expansive panoramas of the mountain countryside. The cliff and another one nearby are encrusted with calcium carbonate and magnesium from the water, which give them the appearance of huge frozen waterfalls over 50 meters (160 feet) high. There are only two such sites in the world, the other being in Turkey.
Nomadic people probably first used these springs about 2400 years ago, and probably was a sacred place to the Zapotecas. The waters were used for irrigation as early as 400 BC, and a complex system of terraces and channels was constructed over half a square kilometer of which vestiges remain.
Although the name implies thermal springs, the water is not hot — only between 22 and 25 degrees Celsius (71 and 77 degrees F) — and the appearance of boiling comes from the water carbonation instead. Today the springs produce up to two liters of water a second, more in the summer than the dry winter months.
TRAVEL ADVISORY — Hierve el Agua has been erratically open in 2004 due to financial disputes among San Bartolo, San Isidro Roaguía, and San Lorenzo Albarradas over collecting entrance fees to receive benefits from the tourism that passes through their communities to the park. On 12 April, 2004, violence erupted between the hundreds of inhabitants that left at least 18 wounded, some by gunshot. The complete details are available online, but only in Spanish.
Hierve El Agua is not the easiest place to find. It is located to 80 km (50 miles) east of city of Oaxaca, past Mitla on Highway 179 in the direction of Ayutla Mixes. Thirty km (19 miles) past Mitla, turn off to south to San Lorenzo Albarrada in the district of Tlacolula, three kilometers away. Six km (3 miles) of sometimes narrow, unpaved road past San Lorenzo is Hierve El Agua in San Isidro Roaguía.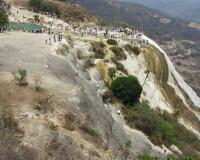 P4180782a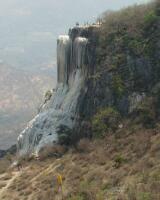 P4180783a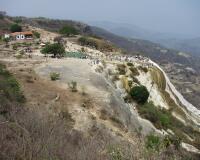 P4180782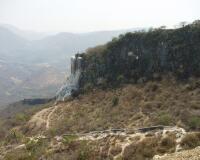 P4180783
All pictures are jpeg (jpg) 24-bits, 144 dpi format with 1024 pixels in the largest dimension. Higher resolution pictures are generally available, up to 1712 x 1368, as tif, jpeg/jpg, gif, tga, png, pcx, or bmp formats. Please email me if you are interested in these other formats.
---
Mexico Photo Albums
Tabasco
Chiapas
Oaxaca
Other Photo Albums